Shiloh Temple
Durham
A sprawling rural church campus that was home to a controversial worldwide religious cult in the early 20th century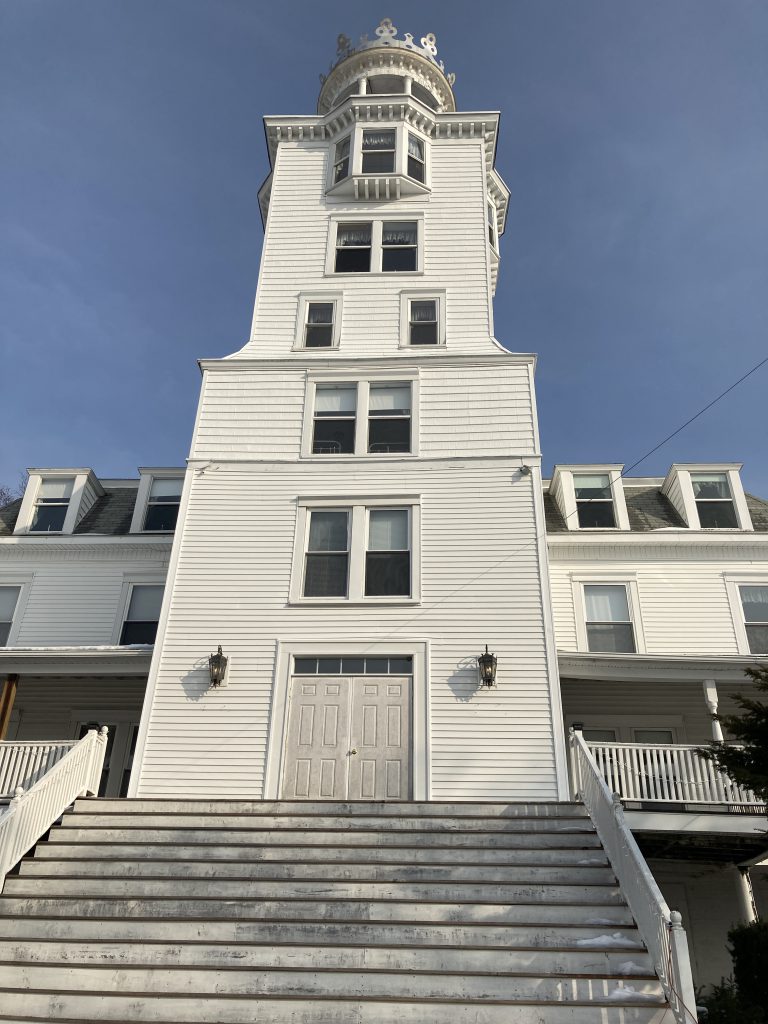 Shiloh Temple was a large set of religious buildings in Durham, Maine near the Androscoggin River that became the home of a controversial religious sect. Frank W. Sandford, the founder and spiritual leader of Shiloh, built a chapel on donated land in 1897 to house a bible school. Over the next few years, it grew to become a sprawling complex of buildings and the religious movement spread all over the world. All that remains of the structure today is the original chapel now known as Shiloh Chapel.
Shiloh Rises on a Hill
Frank Sandford of Bowdoinham, an ordained Baptist Minister, had been preaching in the area for about 6 years. As his reputation and demand for his services grew, he decided to start a Bible School in Durham. The problem was that he had no money but some of his converts luckily did. In 1896, John Douglas gave Sandford a barren sand hill behind his farm in Durham. Work began in March, with Sandford and 6 men digging the foundation while the Bible class temporarily lived in another building on the farm. Over the summer and into the Fall, Sandford somehow managed to build a twenty-seven room structure with a tower ("Jerusalem Tower") rising seven stories above the ground with the help of just one experienced builder, a convert from Richmond named Albert Pray, and a bunch of students with no real building experience. They finished late in the year and had to seal up the windows for winter.
On January 23, 1897 Mr. and Mrs. Sandford, another minister and his wife, and about thirty-four students moved into Shiloh, The Holy Ghost and Us Bible School.
The Kingdom Grows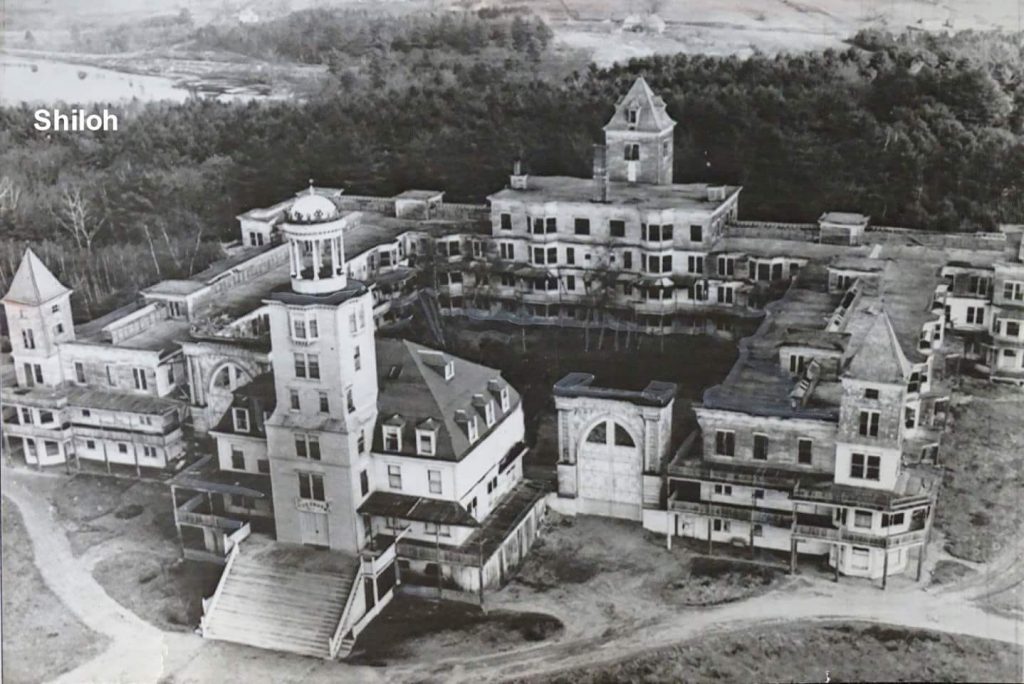 Over the next few years, Shiloh expanded at rapid pace fueled by eager souls wanting to become part of this new church. They arrived, promptly gave all of their money and possessions to Mr. Sandford, and helped in whatever way they could at Shiloh. Buildings sprung up on the hill to support the growing population of "Sandfordites." Ultimately, the main complex was closed in creating a quadrangle of buildings with the Jerusalemn Tower at the head and the shorter "David's Tower" directly across the quadrangle. It was 260 feet long, forty feet wide, and three stories high, and was supposedly the largest Bible School building in the world.
It ultimately had over 500 rooms with space for 1,000 people.
Other large buildings on the campus included a hospital for faith healing called Bethesda (1898), and a Children's Building called Olivet (1903).
Now, supporting this many people required a lot of resources and so a small colonial town effectively grew at Shiloh. There was a print shop that employed twelve people almost full time along with a cobbler shop that repaired shoes and made new ones. There were tin smiths, carpenters, coopers, and blacksmiths along with a post office, bakery and a school with 200 children. Farming and wood cutting occupied a lot of the men. In 1905, for example, there were 27 acres of potatoes alone to plant, hoe, and harvest. A livestock census taken in 1906 at Shiloh listed the following animals as belonging to the community: 50 horse and mules, 81 head of cattle, 81 sheep, 32 goats, and 586 fowl producing at a rate of 12,000 eggs a year. Nothing was ever sold, but used to support the Bible School students and their families. Ultimately, the movement owned 1,470 acres (over two square miles) and provided a lion's share of the town's taxes.
"The complex looked so impressive that aviator Charles Lindbergh flew over it during his tour of the United States after his famous solo flight to Paris in 1927 and reportedly thought Shiloh was the state Capitol in Augusta" – Lewiston Sun Journal
Controversy and Decline
The movement, now known as "The Kingdom" spread rapidly. But at Shiloh, some of Frank Sandford's practices started to cause problems. Severe rules mixed with fasting and discipline caused some families to question Sandford and the local authorities got wind of the mistreatment. Sandford was arrested in 1904 for manslaughter related to the death of a child and then again in 1911 after the death at sea by scurvy of 6 members of his flock during an around-the-world missionary trip aboard a racing yacht. The school continued to be run in Durham in his absence with Sandford issuing directives from prison. He returned to Shiloh after being released from prison in 1918 but Shiloh's glory days were behind it. In 1920, the Bible School was shut down and Sandford moved to Hobart, NY to spend the remainder of his days.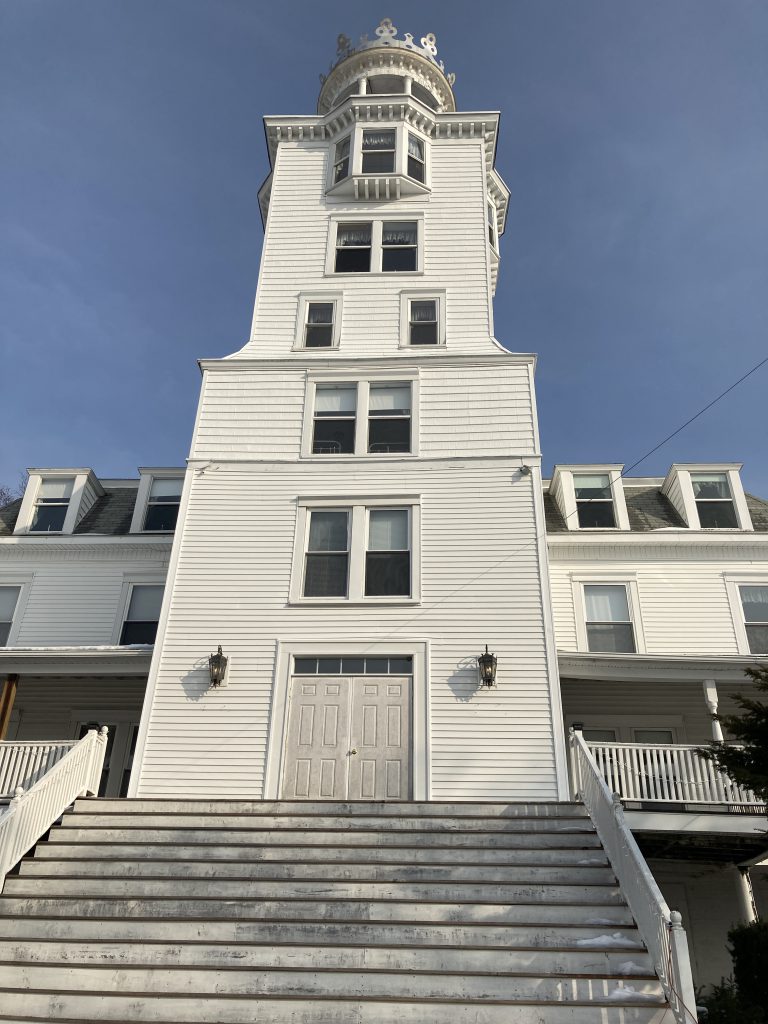 Today
In the 1950s, most of the Shiloh buildings were torn down and only the original chapel was left and is still standing today. The chapel is currently the home of an independent, evangelical church. Pastor Ron Parker has been minister since 1987.