Wedding Cake House
Kennebunk
The so-called "most photographed house in Maine"
Wiscasset calls itself "the prettiest village in Maine," Portland Head Light calls itself the "most photographed lighthouse in Maine" and the George W. Bourne house, better known as the "Wedding Cake House" is called "the most photographed house in Maine." I don't know how any of those claims can be backed up, but I agree that the house in Kennebunk sure is pretty.
What is true is that the "Wedding Cake House" is an historic house in Kennebunk, Maine. It is adorned by many gingerbread Gothic trim details which people think makes it look like a wedding cake. It is one of many historic homes lining Summer Street that were originally built by wealthy shipbuilders in the early/mid-1800s when Kennebunk shipyards were busy and their owners grew rich. This particular home was built in 1825 by the Bourne family and remained in the family for over 150 years. The current owners are in the middle of a restoration and plan to re-open it to the public for tours (as of November 2022).
Built out of Guilt?
Legend has it that George W. Bourne (1801-1856) built the Wedding Cake House as a wedding present for his new wife Jane. It seems she was deprived of a fancy wedding cake at their wedding becauxe George had to head out to sea on a voyage.
While it is a great story, it is simply not true.
The house was indeed built as a wedding gift, but it was built by the groom's parents as a present for the newlyweds – and in no way resembled the ornate home you see today. As originally built, the "cake" had no "icing." It was more like a simple box cake.
The house is a two story, Federal style brick home with 8 bedrooms, 6 bathrooms, and 7 fireplaces. The home is attached to a large barn by an ell. The house has 6 buttresses and the barn has 5, each with a pinnacle on top. All told, the house, ell, and barn, are 10,000 square feet.
The lucky bride and groom moved in to the home in 1826 and the gingerbread wasn't added until 26 years later.
Icing Born of Fire
In 1852, a fire broke out in the barn. Hoping to save the main home, George had men tear down the connecting ell and let the barn burn down. George decided to rebuild a new barn in the same place and decorated it to resemble the medieval European cathedrals (especially the Milan Cathedral) he had seen on his travels. Having a fancy barn like that must have made the house look quite plain, so Bourne and his carpenter's apprentice Thomas Durrell began adding similar trim to the existing house. He continued to work on the house until months before his death in 1856. Bourne and Durrell put their considerable carpentry skill to work, handcrafting all pieces.
The downside of having a home covered with detailed wood trim is that it needs constant maintenance. Future owners found out the hard way that maintaining George's original vision is quite costly.
The Bournes
George W. Bourne was the son of Captain John and Elizabeth Bourne. Captain Bourne ran a shipyard and his son did the same for the Bourne & Kingsbury Shipyard. In the early 1800s, the Kennebunk shipbuilding industry, centered in Kennebunk Landing, was thriving and 7 shipyards employed 1,000 men from October to April building sailing ships.
George was born next door in his family home that his father had purchased. That particular home was a stop on the Underground Railroad and is now a B&B called The Waldo Emerson Inn.
George's brother, Judge Edward Emerson Bourne (1797-1873) and his wife Mary, lived nearby in the Bourne Mansion. Judge Edward and Mary had 4 children, one of them being Lizzie Bourne. Lizzie died tragically near the top of Mount Washington while hiking with her sister and her Uncle George. You can read that tale over here.
The House Is Sold
In 1983, the house was sold to Mary Burnett for $490,000, ending 158 years of ownership by the Bourne family. The house was in bad shape: wood was rotting, exterior trim was held up by ropes, and the fence had been removed and replaced with a picket fence. Mary was an artist, architectural restorer, and historian and she undertook an extensive rehab of the house along with her daughter Anne. They even referred to 1930s WPA drawings at the Library of Congress in Washington, DC for guidance. She hired additional restorers and painstakingly brought the house back to its 1850s splendor. Once the restoration was finished, Mary used the carriage house as an art gallery and studio.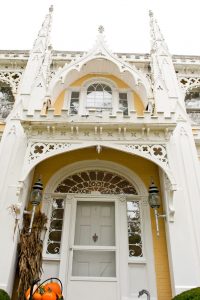 By 1993, Mary was 65 and was struggling to keep the house in shape. She was looking to sell the home but was having trouble finding a buyer. Kennebunk's Historic Preservation Commission has very strict regulations on homes like the Wedding Cake House which means they can't be broken up into condominiums or used as Bed & Breakfasts. At the time, the real estate market was soft and Mary and her neighbors had watched their home values drop by 30%. It took her a while to find a buyer willing to meet those terms.
Sold Again
In 1998, Mary sold the home to James Hunt Barker and his partner Ken Douglass. James knew about the house because in 1954, at age 26, he visited his friend and artist, Channing Hare who had a home in Ogunquit. Also visiting was Claudette Colbert (who won an Oscar for It Happened One Night, with Clark Gable). Channing told them about a house he had been trying to buy for five years and brought them by the Wedding Cake House to check it out. Jimmy Barker loved the home and never forgot it.
Side Trip: The Life of James Hunt Barker (and his dogs)
New owner James Hunt Barker was born and raised in Lexington Kentucky. He went on to have a successful career as an art dealer with galleries in Palm Beach, Nantucket and New York. His Palm Beach gallery became the center of the local art scene.
His obituary said "Barker lived a storied, flamboyant life that included careers as an actor, public relations manager, portrait model, racehorse owner and avid rider, art gallery proprietor and collector, dog enthusiast and owner of the historic "Wedding Cake House" in Kennebunk." He was indeed a colorful character.
In April 1998, Barker got himself in trouble because he kept too many dogs in his house. The Tampa, Florida code enforcement board found him guilty of having more than the 10 animals allowed (he had 17 dogs at the time, down from a high of 25), and of "allowing an odor on his side yard." Rather than pay the $250/day fine, Barker simply said he would leave and go to one of his other homes..
"I can easily stay away until the right number (of dogs) go to heaven."
Tragedy in Florida
One of the homes that Jimmy owned was a 1920s era Palm Beach home that he had purchased in 1973 with Kenneth Douglass. Living with him was his partner James Heyman and a whole lot of dogs. On May 5, 2008, a midday fire tore through the house. Jimmy wasn't home at the time, but James Heyman died in the blaze of smoke inhalation, along with one of Jimmy's spaniels. Supposedly, he lost nearly $8 Million worth of celebrity portraits, statues, sketches, and collection of antique porcelain Staffordshire dogs. Jimmy had the house razed and sold the parcel. The buyer built a more ostentatious house on the lot (currently valued at around $10M). At some point, Jimmy moved into Juno Mobile Home Park in Palm Beach – which was quite a contrast from his usual environment.
Back to Maine
It's unclear if Barker found his way to Maine (and the Wedding Cake House) because he needed a place to keep his controversial slew of dogs after he left Florida. Perhaps it was just coincidence, but shortly after the Florida dog trouble, Jimmy bought the Kennebunk house for $650,000 with partner Ken Douglass and left the trailer park.
Over the next 10 years, he filled the home with antiques, art, and his unique style. After Hurricane Katrina hit, he hosted a fundraiser and gave tours of the home, raising $80,000 for relief efforts. He loved giving tours, so he decided to continue to offer home tours at $10-a-head with all proceeds going to local food programs.
With his Southern charm on full display, James told tour-goers fascinating tales about the furniture, art, and people he had met during his long, colorful life. He would tell them about buying paintings from Norman Rockwell, encouraging Gloria Vanderbilt to draw, and how Liberace played the very piano they were looking at.
In 2018, James bought out his half partner in the house, Ken Douglass.
Jail at Age 90
Jimmy got arrested when he was 90 and spent 3 hours in jail until he paid a $2,000 bond. He was arrested on 4-year old warrant for failing to appear in court on an old criminal traffic ticket. He had been charged by Palm Beach Police with driving with a license issued in Maine after his Florida license was suspended.
Two years later, James passed away in Kentucky at the age of 92. I could not find a mention of how many dogs he still owned.
Another Restoration – Ongoing
Jimmy Barker's nephew Hunt Edwards and niece Lela Cason inherited the home after their Uncle Jim passed away. Hunt is a builder from Florida who, once the estate settled, decided to undertake another renovation of the home. While the house was structurally sound, the barn was not and extensive repairs of the foundation needed to be done. The trim itself requires a tremendous amount of maintenance and the home needs to be painted every two years. They are documenting the project on their Facebook page.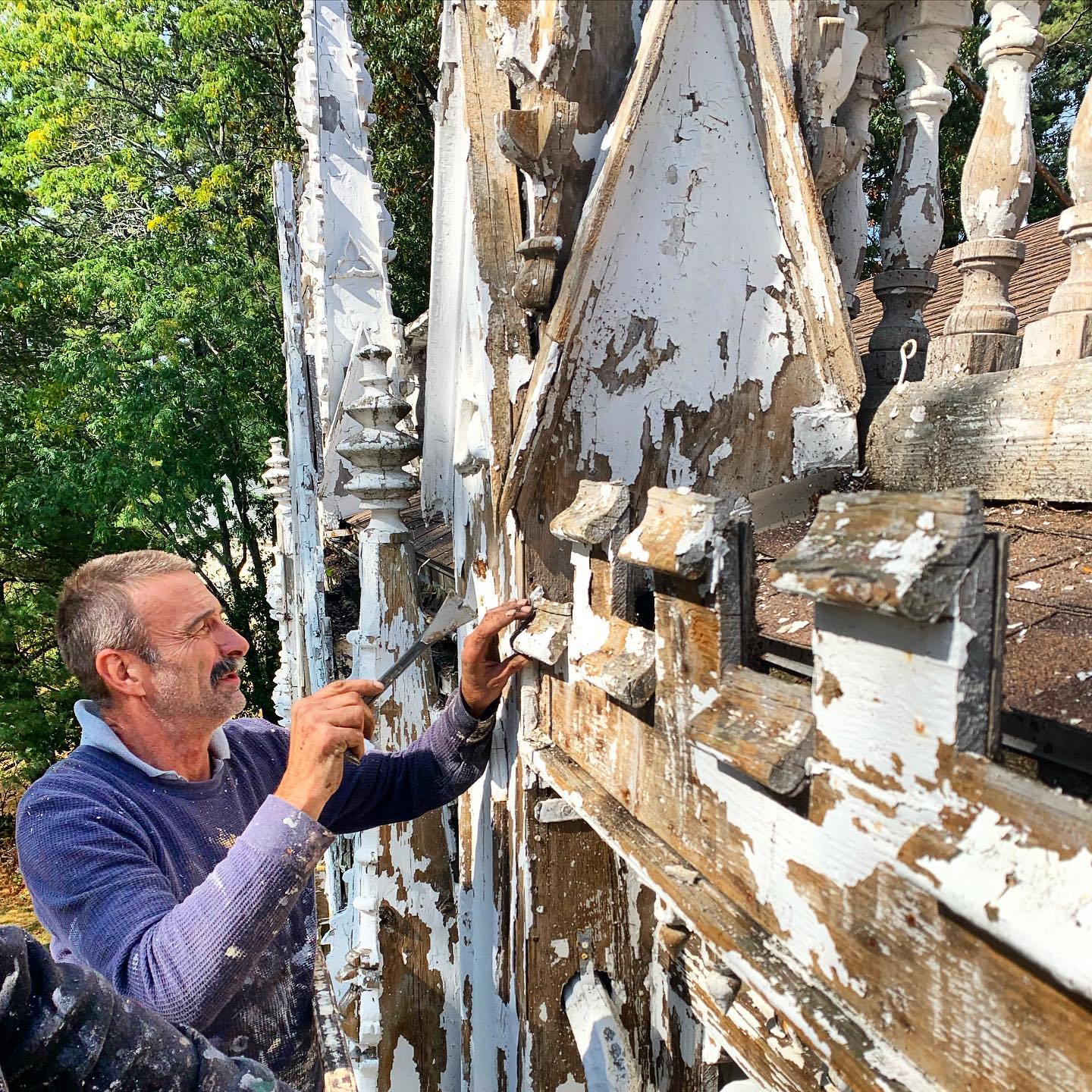 Within a year, he estimated that he had already spent a quarter of a million dollars on renovation and decided to setup a GoFundMe page. On the page, they're asking for donations for just the exterior work – on the buttresses, spires and trim. Their goal is to raise $300,000 and to reopen the home to the public in time to celebrate the 200th anniversary of the house in 2025/2026. As of November, 2022, they had only raised $967. They have a long way to go, but there are many in the community that can't wait for this gem to be reopened.