The Germans of Waldoboro
In the mid 1700's, Germans were lured to Maine to settle Waldoboro and faced hardship, attacks, eviction, and even fought for the English in Cape Breton
Between 1740 and 1753, approximately 1,500 Germans immigrated to Waldoboro, Maine – then known as Broad Bay Plantation, a part the Massachusetts Colony. They were lured by Samuel Waldo with the promise of land, funding, and freedom. What they got was a wee bit different.
Timeline of the German History of Waldoboro
1630 – Muscongus Patent granted giving exclusive trading rights
1675 – Patent falls dormant due to King Philip's War
1719 – Patent revived and Samuel Waldo gains control
1741 – Waldo begins recruiting Germans to settle Broad Bay with false promises
1742 – First Germans arrive by boat
1745 – Most Germans leave Broad Bay to fight the French in Cape Breton with Waldo
1746 – Broad Bay burned to the ground by Wabanaki
1748 – Waldo begins recruiting 2nd batch of Germans to settle
1759 – General Samuel Waldo dies
1763 – Land claimed by the Pemaquid Patent
1769 – Many residents move to Moravian settlements in North Carolina
1772 – Old German Meeting House constructed
1773 – the Town of Waldoboro is incorporated, Zouberbuhler dies
1794 – Old German Meeting House moved across the river
Colonial Germans
By the mid 1700s, German immigrants accounted for one-third of the population of the colonies, second only to the English. Religiously, they were Lutheran and German Reformed, with smaller sub-groups of Moravians and Mennonites. Most were farmers, spoke only German, married only Germans, kept their own foods and customs, were very religious, and generally kept to themselves. They settled in droves to Pennsylvania, but many also found homes in upstate New York and Virginia – often where the land was suitable for farming. Another group started a community in North Carolina (see Wachovia below). New England was not a popular destination.
The Land Grant
In 1630, England granted the Muscongus Patent (for free) which gave the patent owners exclusive rights to trade with the native populations (Abenaki and Penobscot – members of what became known as the Wabanaki Confederacy). The grant area was between the the Penobscot and the Kennebec Rivers. It encompassed nearly all of the present counties of Waldo and Knox, and a portion of Lincoln – nearly 1,000 square miles. Fishing was good on Monhegan and a trading house was established in Thomaston, so there were some English rooting around. But Waldoboro was not a friendly place for settlement at the time.
The Fight Over Maine
Pre-Revolution Maine was filled with a mostly continuous series of "Indian Wars" that lasted from 1675 to 1763. For almost 100 years, the French and English had fought over control of Northern New England and maritime Canada, with the various tribes of the Wabanaki Confederacy fighting alongside the French. Times of peace were temporary. In fact, from 1689 to 1713, not a single English home stood in Maine north of Wells. It wasn't until the English took Quebec, and the Treaty of Paris (1763) ended the hostilities, that Maine could breathe a little easier.
The Patent Goes Dormant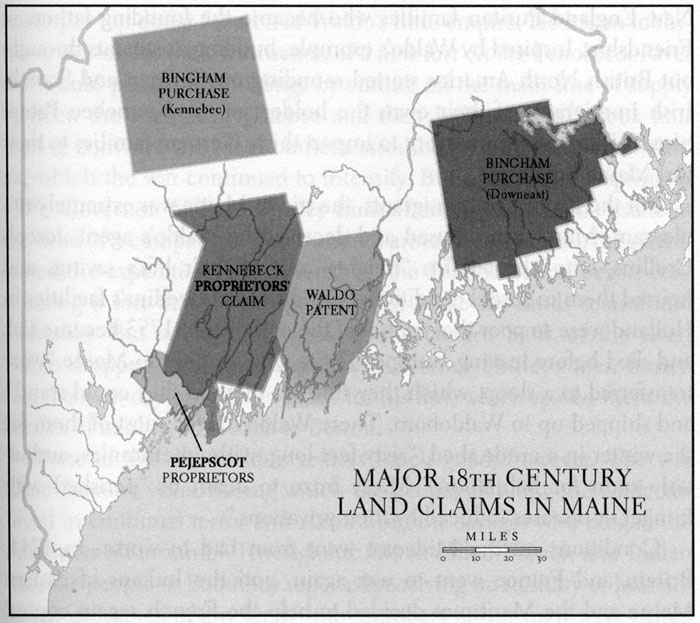 When the First Indian War (King Philip's War) started in 1675, all trading ceased in that area of Maine and the Muscongus Patent fell dormant. During King William's War (1688-99), the French and English fought over Acadia—included Nova Scotia, New Brunswick, and much of Maine. Queen Anne's War (1703-1713) followed and the English won control of Acadia, sparking the establishment of English settlements in Maine.
In 1719, a few years after the conclusion of Queen Anne's War, the Patent was revived by Thomas Leverett, the great grandson of one of the original owners. At the time, he was the president of Harvard College and formed a group of ten Massachusetts men called the Lincolnshire Proprietors (also known as the Ten Proprieters) and revived the land claim. The Ten grew to Thirty, but the grant was disputed by David Dunbar, "Surveyor-General of the King's Woods", who was mostly interested in the gorgeous white pine trees of Maine for ship masts.
Enter Samuel Waldo: Land Speculator, Slave Trader, General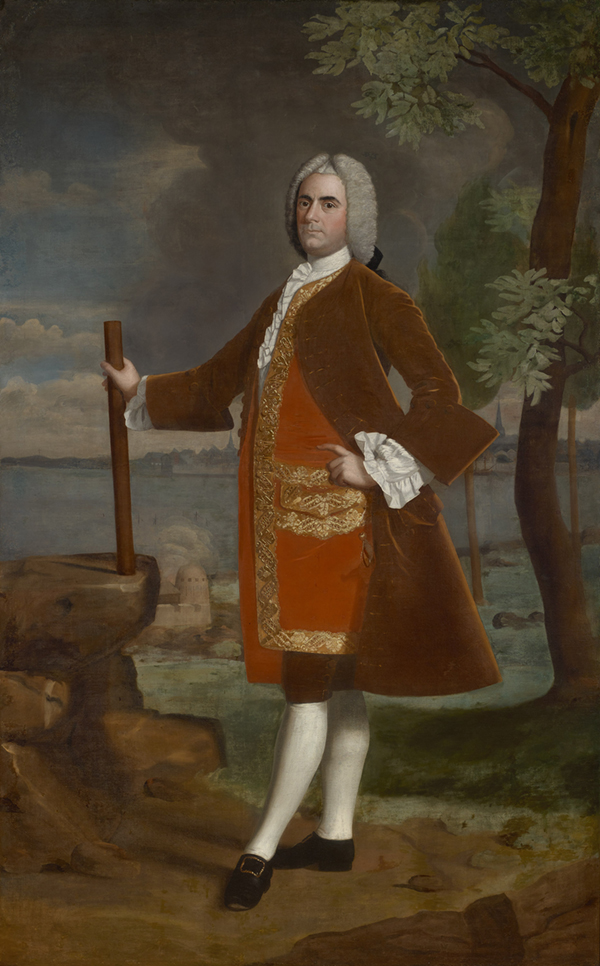 The Thirty Proprietors sent General Samuel Waldo (1696-1759) to England to fight Dunbar's claim to the patent. Waldo was already an owner of a portion of the grant through an inheritance from his father. He successfully overturned Dunbar's claim and, upon his return, the Thirty paid him 50% of the claim for his services.
Waldo was the son of a German nobleman (Jonathan von Waldow) who made his way to Boston and started a family. Samuel became an aggressive land speculator who later served as a brigadier-general during King George's War (1744-1748). He was also a merchant who sold, among other things, Spanish wine, Irish butter, coffee, and the occasional slave, in his shops in Boston. In fact, his slave trading background has been mostly hidden, but it seems a substantial portion of his wealth came from trading West African slaves through the 1730s.
Over time, Waldo acquired more and more of the patent, until he controlled the vast majority – and that's how it became known as the Waldo Patent. His name would eventually grace a few other things including the town of Waldoboro and Waldo County.
Waldo called himself the "Hereditary Lord of Broad Bay."
The First Settlers of Broad Bay
Waldo really needed some willing folks to clear the land and establish a stable outpost so he could trade with the locals and make the area desirable for larger settlement. There had been a fairly long period of peace after the end of the Fourth Indian War (1722-1727) (also called Father Rale's War which you can read about over here) but there was still a real risk of attack by the Wabanaki. At the time, the English and French were fighting for control of the colonies. The French controlled Canada and used their allegiance with the Wabanaki Confederacy to harass and attack the English to the South. Maine was still in the middle of disputed land.
The English felt that Midcoast area was a good spot for development. Lumber was abundant and water for both travel and power were plentiful. There were already a few brave Scotch-Irish settlers around, and a few Germans had arrived by 1739, but Waldo needed more families to really settle the land and start generating a profit from it.
Propaganda and Promises
General Waldo went overseas to the Black Forest in Germany and began recruiting impoverished locals who were persecuted because of their Lutheran beliefs. He quickly found it hard to manage the immigration of thousands on his own, so he hired a Swiss man named Sebastian Zouberbuhler as agent to help spread his propaganda and recruit Germans. Zouberbuhler had previously been hired to establish a Swiss community in North Carolina. Zouberbuhler would later fight alongside Waldo at Louisbourg and then stayed in Nova Scotia and helped settle the town of Lunenburg.
From his base in a hotel in Speyer near Heidelberg, Zouberbuhler, spread Waldo's promises, starting by distributing leaflets that promised potential settlers 100 free acres, food and money for the first winter, farming tools, and land to build churches and schools.
The Business of Moving People Across the Atlantic
Moving emigrants from Europe to America relied on a complicated network on both sides of the Atlantic. Merchants in Rotterdam and Amsterdam worked with traders and creditors in London, and coordinated with various ports in the American colonies, especially Philadelphia, New York, and Charleston. Coordination wasn't easy, but as the mid-1700s rolled along, it became a regular and lucrative business. The "shippers" in the Dutch ports engaged in spirited competition fighting for laborers and farmers who became a sought-after commodity.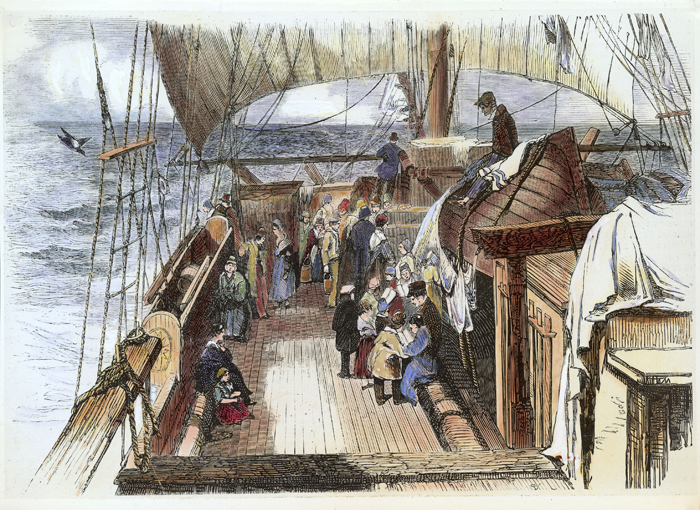 Zouberbuhler chose Mannhein, Germany as the rendezvous point for the emigrants who accepted Waldo's offer. In March of 1742, he brought a group from Speyer with him and was soon joined by a second group from Wirtemberg. Time was of the essence because they needed to make the long trip to Maine and begin construction of a town before the cold weather settled in. The delays they encountered would eventually prove fatal.
We Need a Ship
The group first had to get themselves on a ship but they were a long way from any European ports. So together, the Zouberbuhler-led groups travelled Northwest from Mannheim to Mulheim below Cologne. He had trouble securing ships so they had to stay in Mulheim until mid-June when he got word that a ship was available. From there, they travelled to Rotterdam, Netherlands where they encountered even further delays. Finally, with approximately forty families, they left Rotterdam early in August on the ship "Lydia". The Lydia stopped in Deal, England for emigration requirements and then sailed north of Scotland to avoid nasty French and Spanish privateers and made their way across the Atlantic.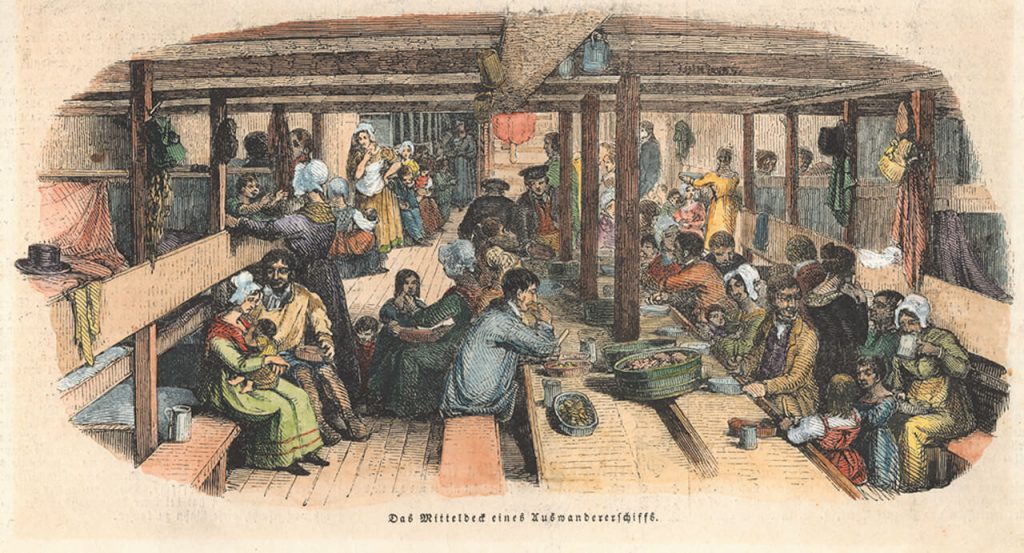 Arrival
In October, the Lydia finally reached the colonies, landing in Marblehead (Massachusetts) in October. Samuel Waldo wanted to make sure the Germans got the best impression upon arrival in the U.S. so he personally met them in Marblehead with an assembly of dignitaries including Massachusetts Governor Shirley, several Assemblymen, and a German interpreter. From Marblehead, they travelled North with Waldo and stopped at St. George's to to drop off some Scottish passengers. They finally sailed up the mouth of the Medomak River on a November day where they got their first glimpse of their new home in Broad Bay. It quickly went downhill from there.
Troubles Begin
The next couple of years at Broad Bay were far from ideal. The Germans arrived in mid-November, just before the weather turned cold. Waldo promised them clothing, food, houses, cleared land, and perhaps a church. Instead, they found nothing but uncleared wilderness. They had 8 weeks of fair weather to take down trees and build at least basic housing to survive the winter. Even the farming tools they were promised never showed up. They had to adapt very quickly or face extinction.
Those that survived that first winter immediately set out to plant crops. The first things they planted included cabbage, flax, and rye, but they weren't used to putting fences around their farms – so livestock from English farms would wander through and eat their crops. They didn't know how to fish (coming from so far inland in Germany) and hunting in the wilderness was very risky because straying from the settlement meant risking attack by the Wabanaki (who were steadily encouraged by the French to do so). They spoke no English so communication and trade with the few non-German neighbors they had was very difficult. They realized that their best chance to acquire supplies was by cutting firewood and selling it to the boats bound for Boston that came up the river. The settlers had been left to fend for themselves by Waldo.
They tried to complain to Governor Shirley in Boston (who had greeted them when they arrived by boat). The very first summer, in June of 1743, a group of the German settlers submitted a formal petition to the General Court of Massachusetts claiming that Samuel Waldo had not fulfilled the terms of their agreement in settling at Broad Bay. They asked for help to survive but it appears that they were denied.
Another War Affects Broad Bay
French-fueled Wabanaki attacks continued throughout Northern New England. Then in 1744, the Fifth Indian War (King George's War) began. A French and Wabanaki force sailed from Louisbourg in Cape Breton and attacked an English fishing port in Canso, Nova Scotia. They burned the port to the ground and took 50 English families hostage back to Louisbourg. The prisoners were allowed to move freely around the fort and the more military-minded among them took carful notes of the fortification's strengths and weaknesses. When the English were released to return to Boston, they passed those details on. Governor William Shirley of Massachusetts convinced England that military action was needed.
In March 1745, they assembled a rag-tag army of farmers, settlers and militia and planned an attack against the mighty French fortress at Louisbourg. Although the fortress was very well guarded against attack from the water, it was more vulnerable to attack by land. Under command of William Pepperell of Kittery, 4,200 soldiers and sailors from all over New England, including 90 ships, headed towards Nova Scotia. Samuel Waldo, a Colonel, was put in command of the 2nd Massachusetts Regiment. The plan was for an army to attack from the West while the fleet of ships attacked from the water.
Germans in the Militia
Many of the Broad Bay Germans decided to join the newly founded militia instead of face another year in dreadful Broad Bay. I'm sure it was mostly due to the horrible conditions they faced, and partly due to the fact that many were still in debt to Waldo and Zouberbuhler for their ocean passage. In any case, most of the Germans decided to gather their families, leave Broad Bay to join the attacking force, and march North.
Colonel Waldo led the 2nd Massachusetts Regimen, Zouberbuhler was his Captain and was the leader of 270-ish Germans from Broad Bay. The siege (which I won't detail) was successful and mighty Louisbourg fell to the English/German army. Samuel Waldo, who was only 3rd in command of just the Maine contingent, somehow managed to get himself promoted to General after the victory.
Broad Bay is Abandoned
Some of the German settlers had decided to stay in Broad Bay instead of joining Waldo and the army. King George's War was still active and during the following year (1746), there were further Wabanaki attacks. The entire settlement was burned to the ground and all settlers were either killed, fled to other settlements, or were taken as prisoners to Canada. Broad Bay remained empty for about three years.
A Second Wave and Lots of Promises
Undeterred, Waldo and Zouberbuhler, with the help of Waldo's son Samuel, returned to Germany to enlist new settlers to restart Broad Bay. The Germans had a few travel options to choose from because there were existing German settlements in Pennsylvania and North Carolina. In Waldo's offer, he disparaged the harsh conditions in Pennsylvania and the poor treatment those setters had received and perhaps oversold the merits of Broad Bay.
The Waldos once again promised 100 acres, and an additional 100 acres to each of their heirs. They also promised 200 acres for a church, 200 acres to the first pastor of the church, and 200 acres for a school. They were promised 4 to 6 months of "support," representation in court in Massachusetts, religious freedom, and would not have to bear arms if England went to war (again). Each family could choose their plot of land on either a seaport or river. They were guaranteed that any firewood or timber they cut will be taken by ships for "ready money" and that any supplies they need would be returned by ship from Boston. He sold Broad Bay (in comparison to landlocked Pennsylvania) as favorable because it meant that they wouldn't need to transport goods by wagon through rough lands. They just had to cut trees and could immediately start making money immediately through ready trade by boat.
In exchange, each person needed to pay at least half of their passage up front and live on the land at least 7 years and the 100 acres would be free. This offer was open to 120 families.
Offer Accepted
The attractive offer was very well received and from 1748-1753, Samuel brought another 1,500 Germans over on Waldo-sponsored ships. In 1749, a saw mill was constructed and expansion proceeded.
In 1752, a peace was brokered with the Wabanaki at St. George's which eased some fears. A large German group arrived on ship from Amsterdam in 1753.
Things were looking up.
Side Trip: Conrad Heyer Crosses the Delaware? and then gets Photographed

Conrad Heyer 1852

Also in 1749, the "first white child" was born in Broad Bay. Conrad Heyer (1749-1856), the son of German immigrants, was buried in the church cemetery and is known for three things – which may or may not be true. 1) he was the first non-immigrant born (to Germans) in Waldoboro 2) He was a Revolutionary War Veteran who "possibly" crossed the Delaware with George Washington and 3) he is probably the earliest born American to be photographed as a daguerreotype. Note that he was not the first person whose picture was taken, it's just that he was 103 when his photo was taken in 1852 (he lived to be 106) so he had the earliest birth date. Kind of an odd claim. Plus, someone wrote an entire article effectively debunking the "crossing the Delaware" claim. In any case, he is definitely buried behind the Old German Meetinghouse.
Broken Promises
The 1753 group had an especially rough time. When they arrived, they were put in temporary housing and had to fend for themselves. Like their predecessors, they didn't know how to hunt or fish and found that the only seafood they were able to reliably get were clams. The first winter was harsh and many fell sick, some died, and they were all starving.
In the Spring of 1754, Waldo had his local German agent Charles Leistner distribute the promised lands to the new batch of settlers. But instead of assigning them 100 acres each on the water, he took them two miles into the wilderness and each got half an acre packed next to each other – presumably for safety. They built meager huts the best they could, and built a wall around the huts, but the conditions were dreadful. They tried to plant farms using crude farming tools. Starvation continued.
They Finally Get Their Land
It's unknown how long this arrangement went on, but at some point, Leistner took pity on them and assigned them each the promised 100 acres on the Medomak joining the existing settlement.
The settlers were not given deeds to the lands, but were given 99-year leases. Their rent was a pint of barley or corn "if called for." They were required to clear at least 3 acres of land within 2 years and building a dwelling of at least 16×18 feet.
The first houses were simple log huts built near the river. As they cleared land, they were able to build more proper farm structures further from the river. The only "roads" were foot paths from house to house.
Waldo had a fort constructed at Broad Bay to both protect the settlers and to serve as housing for himself when he visited Broad Bay. It would come in handy.
War Returns to Broad Bay
In 1755, tensions heated up again between England the French and Wabanaki. England declared war in 1756 and the Germans in Broad Bay once again found themselves in the middle of very disputed territory.
For the next 5 years, they lived in fear and mostly had to abandon their farms and live inside the safety of the fort walls. They only ventured out to farm their lands under armed protection. Ignoring his promise of freedom from having to bear arms, Waldo had the settlers organized into companies, and provided them rations and some pay for their military service.
Desperate Times
When the fort rations dried up, things got even rougher. It was said that one family survived an entire winter on only "frost fish, with only four quarts of meal." There were only a few cattle for milk.
One man travelled to St. George's with no money to buy a cow and had to leave his wife with the farmer as security. Once he raised enough money, he returned to claim his wife.
As the war went on, more setters fell victim to attack. When they ventured out from the garrison to work the land, they were ambushed. One farmer was killed when the Wabanaki removed the bell from his cow and lured him into the woods. Others were assaulted while hauling wood, scalped, and their bodies mutilated.
Waldo Dies
In 1759, Samuel Waldo was accompanying Governor Thomas Pownall and 400 men while they "reacquired" land on the Penobscot near Bangor to build what became Fort Pownal. Shortly after arrival at the Falls, he dropped dead of "apoplexy" (a stroke) at age 63.
Relative Peace and Prosperity
By 1760, peace had partially returned to Broad Bay (although peace wasn't fully achieved until the Treaty of Paris was signed in 1765). The settlement had around 100 families and the County of Lincoln was founded. Residents travelled around by foot or horseback. Crops included potatoes, rye, some maize, and cabbage which was used to make kraut. Flax was grown and used for clothing until they later acquired sheep for wool. The primary product continued to be wood and lumber which they put on ships bound for Boston.
Eviction
In 1764, the Broad Bay land fell into dispute. The Pemaquid Proprietors claimed that the land west of the Medomack was theirs, not part of Waldo's Patent, and therefore settlers must now buy their homes from the Pemaquid Proprietors or leave. It's unclear if Waldo knew about the real border of his lands and may have intentionally had the Germans settle on land he didn't own.
In any case, the leases that Waldo had granted to many of the Germans were now void.
Some German settlers paid the Pemaquid Proprietors for their land, but many could not afford to do so. 50 or 60 families purchased their own land and were also allowed to keep the land that Waldo had set aside for schools and churches. Those that couldn't simply abandoned their land all together. According to the History of Old Broad Bay and Waldoboro, "others from sheer fury burned their houses, barns, sheds, and outhouses, and, so far as they could, dragged back into the fields and meadows the stones which they had originally removed for clearing land. This was done to decrease the value of these lands to those claiming them".
The families on the East side of the river weren't safe from claims to their lands. Waldo's heirs disputed the leases and hassled the settlers.
The grand promises of Waldo were certainly not being realized. In their 10 years in Broad Bay, half had been spent hiding from attack in the Fort and just when things were looking up, their land was taken away.
Church Beginnings
The Broad Bay Germans were pious Lutherans and had been planning on building a church since their arrival. One of the primary reasons they left Germany was to be able to worship as they pleased. Up until this point, services were informally held in homes with readings by devout settlers.
Division in the Church
The first "real" church leader, Reverend John Shaeffer, had been brought from New York by some of the Lutherans and began reading sermons in Broad Bay while awaiting the construction of an actual church.
Around the same time, a Moravian named Hans George Hahn arrived in Broad Bay. Coming from Germany, he was originally supposed to settle in a Moravian settlement in Pennsylvania with his wife. The boat from Germany was redirected to Boston where Hahn heard of the German settlement at Broad Bay. He and his wife made their way to Maine where he was welcomed.
Brother Hahn was asked by some to perform religious readings and to perform sermons in their houses on Sundays. Demand for his services grew and a group of budding Moravians sprouted. Seeking a proper pastor, they wrote a letter to Boston requesting that they send a Moravian pastor to Broad Bay.
Their request was honored and Brother George Soelle, a real Moravian minister, began visiting Broad Bay. He visited on and off for a few years and in 1762, offered his permanent services to Broad Bay, Some enthusiastic residents immediately began construction on the new church.
Spreading Rumors
Shaeffer had been away from Broad Bay and when he returned, he found that Brother Soelle had quite a following. The community was split between the two pastors, and Shaeffer wanted control. Shaeffer started spreading anti-Moravian rumors including claiming that Soelle had been "stoned out of Philadelphia" and escorted out of Newport, Rhode Island by the Constable.
Shaeffer tried to "hire" Soelle as his assistant and schoolmaster, but Soelle told him that he intended to administer to his own flock as they had asked him to come.
The First Meetinghouse
While Shaeffer and Soelle were battling for spiritual control of Broad Bay, residents began construction on the first church in Broad Bay. They had no money, so used their simple tools to construct a spruce and hemlock square cabin, approximately 28×36 feet.
This first church featured rough-hewn log benches, a simple raised pulpit, bark roof, and sheepskin "windows." It wasn't much, but it was theirs.
In December 1762, Brother Soelle performed the first services from the pulpit.
It Gets Nasty
The following year, the split between the two factions got testier. Shaeffer even had Soelle and Hahn arrested and sent to Boston. Soelle returned and continued to perform services under increasing tensions. Then in 1767, a Brother John Ettwein visited Broad Bay and informed them that Brother Soelle was being recalled to Pennsylvania because his 5 year appointment at Broad Bay was done. Members immediately petioned for his return and he in fact did come back two months later. During that time, Schaeffer was been sent away after it was discovered that he was not the good man he claimed to be and had deserted his wife.
Moravians Move to North Carolina
Brother Ettwein (who took Soelle away) had come to Broad Bay from North Carolina where a German settlement called Wachau-die-Aue (anglicized as Wachovia) was thriving. When he visited Broad Bay, he told congregation members of North Carolina's many virtues, including "its genial climate and fertile soil."
Wachovia consisted of 100,000 acres of fertile land in North Carolina that had been purchased by the Moravian Church. Meanwhie, the budding Moravian community in Broad Bay were hungry, exhausted, and fed up with broken promises and slow progress. The lure of a gentle climate, abundant land, and an established Moravian community beckoned.
When Soelle returned to Broad Bay, he found that a number of families were quite set on immediately abandoning Broad Bay and moving to North Carolina. Soelle wrote to Brother Ettwein asking for acceptance of the families.
So In 1769, the first set of families set sail for Carolina. They endured a shipwreck out of Boston, seasickness, and fever but they eventually arrived in Wachovia in November 1769. A second set of families came in the Fall of 1770.
Friedland
The group from Broad Bay found far better conditions in North Carolina. The Moravian Church set aside about 2,000 acres of land for them, and each family was able to cheaply buy 200 acres, with 30 acres in the middle reserved for the church. The settlement was organized into a society of the Moravian Church on July 21, 1771, and the name Friedland (Land of Peace) was given to it.
Broad Bay Recovers
Not everyone loved Friedland, and some of the families actually returned to Broad Bay the following year. At the same time, a number of English families from Massachusetts moved into the homes abandoned by the North Carolina deserters. These new residents began building frame houses to replace the log cabins of their predecessors.
In 1772, a proper church was constructed on the East side of the river. It was eventually moved across the river over the ice in 1794 where it still resides. You can read about the Old German Meetinghouse here.
Waldoborough/Waldoboro Founded
By 1773, the settlement had grown enough that the residents wanted to incorporate into a town. They petitioned the General Court of Massachusetts and the town of Waldoborough was formally created – named after their founder Samuel Waldo. Eventually, the last 3 letters of the town name were dropped and the town was just Waldoboro. Some of the first acts of the town were to create 3 roads (every man had to work 2 days per week on the road construction) and to authorize money for schools.
Today
Since its difficult German beginnings, Waldoboro has grown much like many other small Maine towns. A successful shipbuilding industry eventually grew up on the river and the town moved steadily on through the years. It is now a small town of about 5,000 residents and held its 250th anniversary in 2023. Route 1 passes nearby (Moody's Diner) and the downtown has some shops and even a brewery. One of the best known remnants of Waldoboro's German roots can be found at Morse's Sauerkraut. It continues to produce fantastic kraut and pickles as well as offers a wide variety of European foods in their well-stocked store and deli.
Waldoboro holds Oktoberfest celebrations and the Waldoborough Historical Society holds an annual church service at the Old German Meetinghouse. Anyone interested in learning more about Waldoboro's past should visit the Historical Society or the Old Broad Bay Family History Association.
A memorial to the hearty German settlers who died at Broad Bay during the difficult winter of 1753/54 was dedicated in Waldoboro, Maine on June 21, 2008. The memorial site is next to the flag at the entrance to the Miller School on Route 32. The school is on or very near the original burial site.