If You Build It, Will They Come?
Amusement Parks, Hotels, Resorts and Zoos and the Trolleys that Connected Them
In the late 1800's, before automobiles became the de facto way to get around, people rode on rails. Steam trains brought from city to city and electric streetcars (trolleys) took them on the shorter trips. For people who had been dependent on horse and carriage for the local trip over dusty roads, trolleys were a convenient and inexpensive alternative. Maine jumped on the trolley trend and the first electric line opened in 1889 in Bangor. Similar trolley lines opened all over the state, connecting small towns to each other and to larger cities and beyond. It can be argued that trolleys allowed much of rural Maine to be developed.
The Golden Age of Trolleys
Trolley ridership peaked in 1923, with 14 billion rides taken by a population of 110 million. That works out to an average of 127 yearly trips for every person in the country.
Maine itself had over 90 communities with electric railways, over 500 miles of tracks, accounting for 57 million rides in 1915 alone.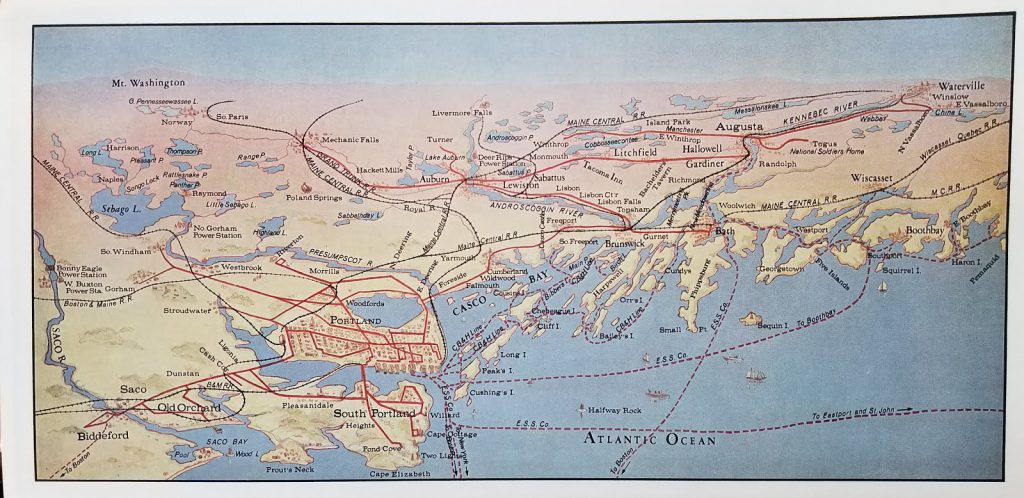 The street railway companies and lines were typically started by individuals and groups who then sold shares to investors (who expected regular dividends). The highly-traveled lines could often generate sufficient revenue through ticket sales, but some of the smaller lines and spurs struggled to break even. A few enterprising owners tried to increase ridership by building destination hotels, resorts and amusement parks to (hopefully) help them recoup the cost of building and running their trolleys.
Entertain Them (after a trolley ride)
During this golden age of trolley riding, dozens of resorts, parks and hotels opened up along trolley routes throughout Maine. Some only survived a few years, some suspiciously burned to the ground, while others had a longer run – especially those near larger populations.
There are too many to detail here, but a sampling is below. Note that "casino" does not mean gambling, but was a name for a "a building or room used for social amusements."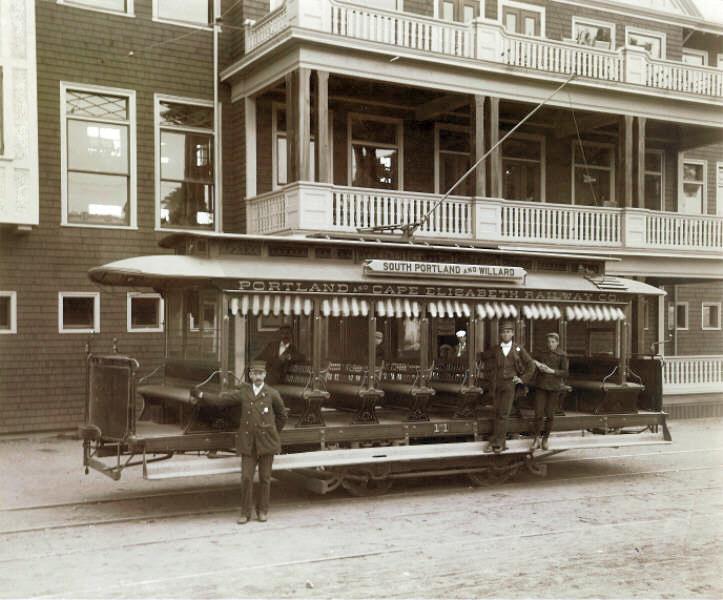 The Willard Beach Casino at Simonton's Cove in South Portland was opened by the Portland and Cape Elizabeth Railway on June 10, 1896. Supposedly, 10,000 people visited on opening day. Willard Beach also housed a bowling alley, dance hall, and orchestrian (automatic pipe organ). It suspiciously burned in 1898 and the $25,000 insurance payment allowed the owners to build the Cape Cottage Casino and Theater in Cape Elizabeth. Cape Cottage Casino was designed by architect John Calvin Stevens and operated until its sale in 1922. It featured the 1000-seat Cape Cottage Theatre, described in an advertisement as "a beautiful theatre equipped with all modern improvements and luxurious appointments." Cars left Monument Square daily every ten minutes for a scenic run along the Cape Shore Road out to the Park.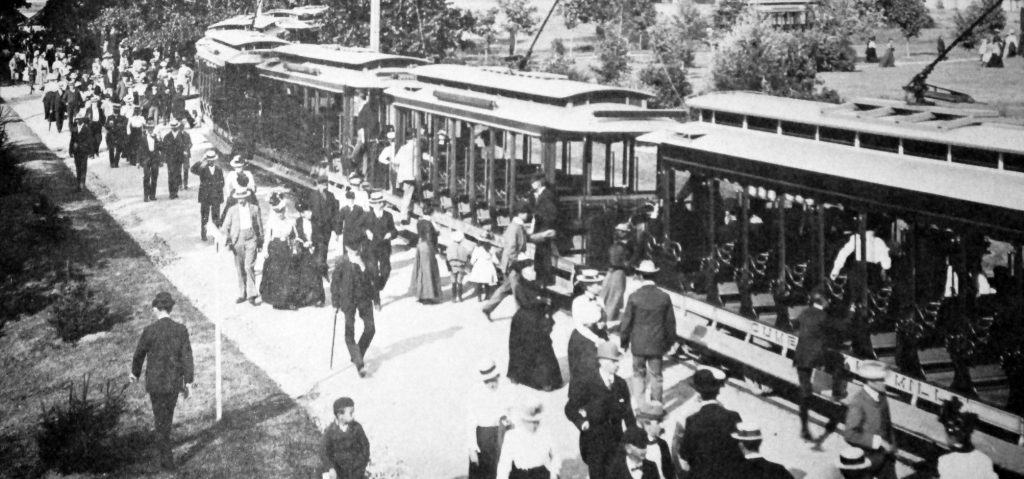 In Portland, the Portland Railroad Company opened the Riverton Trolley Park at the corner of Forest Ave and Riverton Street in Portland. The restaurant and casino was built in 1896 and was also designed by John Calvin Stevens and enlarged in 1898. A reported 10,000 pleasure seekers (hmmm, same estimate as Willard Beach) arrived on opening day at the ornate wooden carriage entrance on Portland Railroad Company street cars. Regular cars left from Preble Street every 15 minutes starting at 8:30 a.m. to carry passengers to Riverton.
Timeline of railway destinations opened in Maine:
1883-1928: Lake Park, Auburn – the first park opened by a railway
1895: Lakewood Park, Madison
1896: Willard Beach Casino, South Portland
1896: Riverton Trolley Park, Portland
1896: Lake Grove Park, Auburn
1898: Cape Cottage Casino, Cape Elizabeth
1898: St. Aspinquid Park, York Beach
1898: Merrymeeting Park, Brunswick
1900: Cape Porpoise Casino, Kennebunkport
1901: Oakland Park, Rockport
1903: Island Park on Lake Cobbosseecontee outside Augusta
1903: Casco Castle, Freeport
1909: Tacoma Inn, Lewiston
Amos Fitz Gerald, the Electric Railway King
One of the main forces behind the development of electric railways in Maine was Amos Fitz Gerald. He was born in Benton in 1842, the son of farmer. He worked a series of jobs including log driver, blacksmith, he ran a curtain rod business, was a cattle buyer, bought a hardware firm, ran a harness racing track in Philadelphia, and bought a salt business. He managed to secure patents on several inventions including "improving the head of a sewing machine" for which he made $16,000 (worth approximately $430K in 2020). That payday allowed him to move to a larger home and make multiple trips to New York City where he undoubtedly saw the widespread use of horse-drawn trolleys and recognized an opportunity.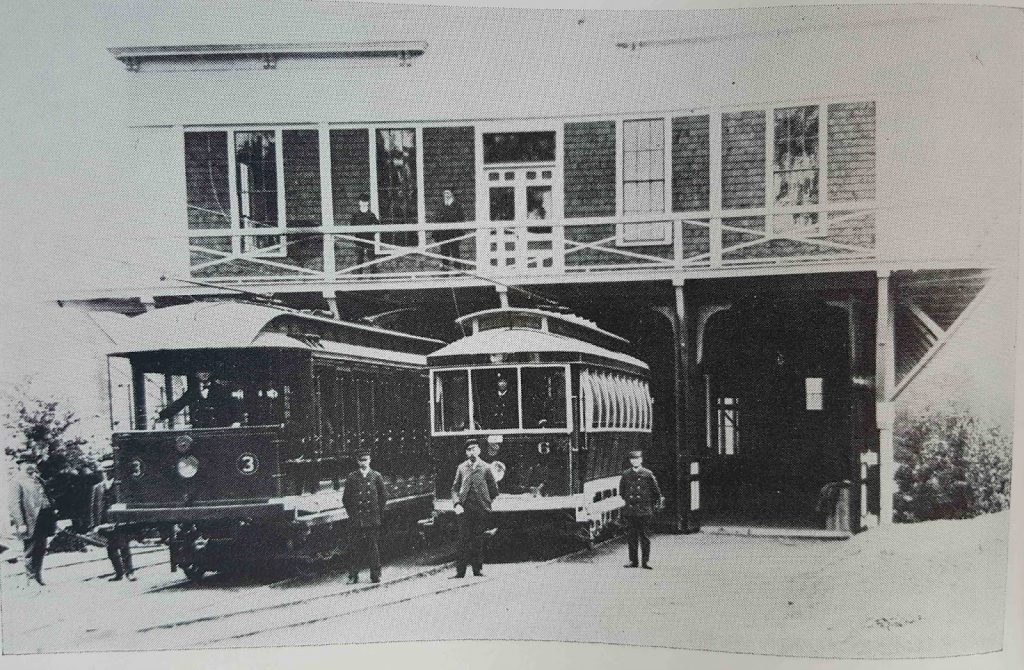 In 1886, Amos and a group of men opened the first electric lighting plant in Maine (Fairfield). Then in 1887, he incorporated the Waterville & Fairfield Horse Railroad Company and started a horse-drawn street railway line from Waterville to Fairfield. In 1889, he started the Augusta, Hallowell & Gardiner Street Railway and opened Maine's 2nd electric street railway line (after the Bangor line which he was not part of). Seeing that the nascent electrical business was struggling, he merged the existing Fairfield and Waterville lighting plants with his railway company creating the Waterville & Fairfield Railway & Light Company. He figured that if people were slow to embrace electrical power and lighting, he could create demand for the product and show the benefits by powering his trolley lines. Everyone wins.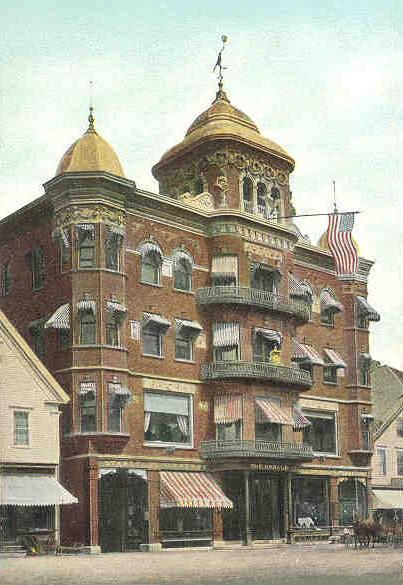 He went on to open many more street railways including the Bath Street Railway in 1893 followed by lines in Skowhegan & Norridgewock, Calais, Kittery & York, Bangor, Orono & Old Town, Brunswick, Topsham & Lewiston.
Other ventures included a large woolen mill in Fairfield, a spring water company, a dairy that shipped 5,000 gallons of cream monthly to Boston. In 1889, he built a beautiful hotel in Fairfield selfishly called "The Gerald" and also purchased and remodeled the Fairfield Opera House. Both were conveniently served by his trolley line.
As it is with many serial investors, not all of Amos' ventures were moneymakers.
While the Lewiston, Brunswick and Bath line seemed successful and paid its stockholders dividends at the rate of one percent per month, it turns out that he was paying dividends from revenues and had deferred maintenance. Based on this false profit, he sold the line and the new owners were forced to rebuild most of the line and never turned a profit.
Merrymeeting Park & Casco Castle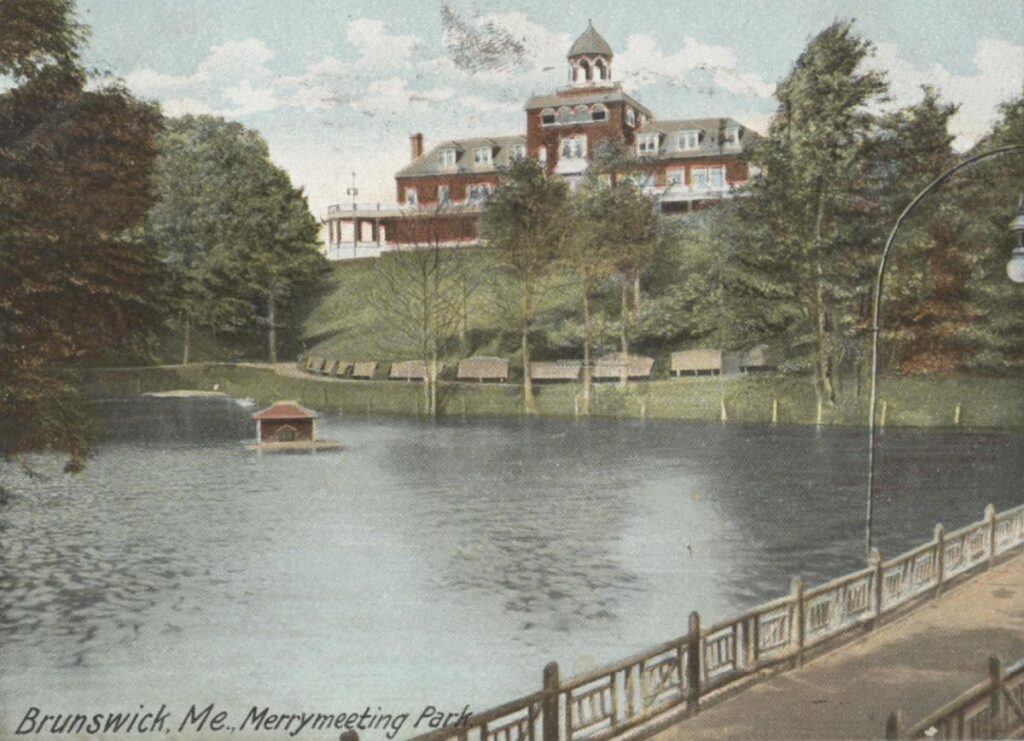 In 1898, he got more adventurous and opened the 140 acre Merrymeeting Park in Brunswick intending to create a tourist destination for his trolley line. Merrymeeting was a sprawling property that featured a casino, a zoo, hotel, amphitheater and gardens. Merrymeeting was a glorious but overly ambitious project because the local population wasn't big enough to support such a grand property. Nevertheless, he decided to double down and build a companion destination resort to the South in Freeport called Casco Castle (which has a page on this site).
The End of the Railway King
Amos Fitz Gerald died in 1913 in Portland, before automobiles caused the demise of electric trolleys in Maine. On the day that the "Electric Railway King" was buried, nearly every electric car in the State of Maine came to a halt for three minutes at 2 P.M. as a token of respect.